My current top rated rides are SWEET!
As many of you know I keep up pretty well on all the cool new cycling innovations and personally try out many products. I go to the Interbike trade show every year and there are always new and exciting products that are introduced. Some work out and become a main stay of the cycling world and some do not.
I love cycling and I love the technology that goes into them. I try to find and ride the very best of everything there is to offer... within reason ;-)
The numerous questions about my bike(s) I ride might be answered below. I have posted up my current ride(s) and will add reviews and comments as I have time. I will try to keep it up to date as my bikes are in a constant state of change.
YOU CAN BE SURE OF THIS: If you have not checked out the newest technology of the last couple of years you are missing out on substantial improvements that have been made in this industry.

Ibis Ripley 29er

Update 6/26/15: I have sold my Santa Cruz and now sporting the v2 Ripley - so now I have one Ripley v1 set up XC race and the newer v2 set up all mountain.

Ripley v1 vs v2: I had both bikes set up identically XC and AM at one time or another, and for what ever reason the slight tweaks Ibis has done makes the v2 does seem slightly superior "feeling". It is subtle but it's different. The new outstanding rear shock definitely makes a difference...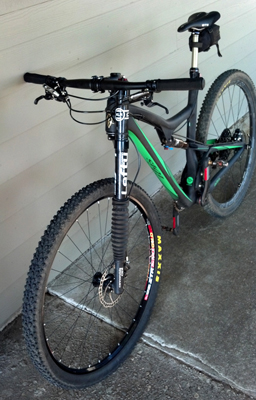 The v1 Ripley "XC" has a 120mm 2015 Lefty. (new photos soon). Lefties are lighter, stiffer and stronger than conventional forks. I use a Project 321 steer tube adapter which make the conversion ez as pie.

It has been re-vamped with "SRAManno" components: M9000 XTR shifters, brakes, derailleur with SRAM 10x42 cassette and 1x32 Wolftooth chainring on a SRAM crankset. This combo is excellent for racing. Quick double gear shifts with wide range of gears.

The 120mm Lefty works excellent and helps bring this bike down to 22.4 lbs. or 23.5lbs with a dropper seatpost. I'm running the Stans NoTubes Valor carbon wheelset.

Ripley v2: (photo soon) I went with a 140mm Rock Shox Pike - WOW and the 41mm wide carbon Ibis rims allow low pressures (like 18-19 lbs) without sidewall flex for incredible grip and suppleness over the chop.

I went full SRAM on this build, I think the 1x setup is perfect and the shifting is a bit crisper than Shimano (although you don't get the double down shifts). It is also a quieter drive train and seems to last longer.

All I can say is fun... Fun.... FUN! Such a capable bike in the techy and rough. I am riding more gnar-gnar now than I ever have in my life :-)

Santa Cruz was a great sponsor for us from 2009-2012 and the Tallboy 29er is still one of the best XC 29ers out there. I only recently sold my TB.... but only because I decided I wanted a larger frame (I'm a 'tweener.... between Med and Large). For the time being, I'm Tallboy-less... of course they now have the HighTower.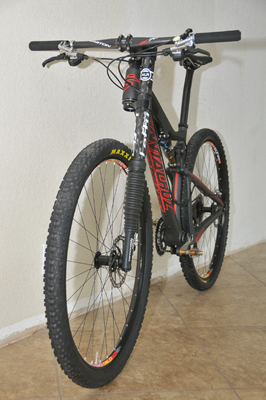 This was still one of my favorite and fun bikes. This bad boy rolls over everything sooooo nice! Except for the Lefty (using the adapter kit from Project 321) the bike build is currently a pretty "stock" Santa Cruz XTR XC build with Stan's Gold Race wheels. I recently did the WolfTooth 1x10 conversion on it.... and I love it. 21.8 lbs as you see it.
I was originally running a Fox 120mm fork with a Terralogic damper (It's like having an automatic lock out). As you see I currently run a Cannondale Lefty at 120mm If you want the stiffest, plushest sweetest ride, go Lefty!
How do I like this bike? It is my go to fun bike. It is so easy and fun to ride. If I have a guest drop in, I put them on my Tallboy jut to "treat them right"! On any given ride at the end of the day I feel I expend a fair amount less energy on this 29er than even my flyweight Mojo below.
At first it did not feel as quick in the tight twisties, as a 26er, but I've gotten used to it and now I'm faster soooo much faster!
Here was my super fun, super sweet Ibis Mojo. I sold this to a friend, but still miss how fun this bike was. It is a flyweight (yet 140mm long travel) XC racer at only 21.8lbs set up like you see below: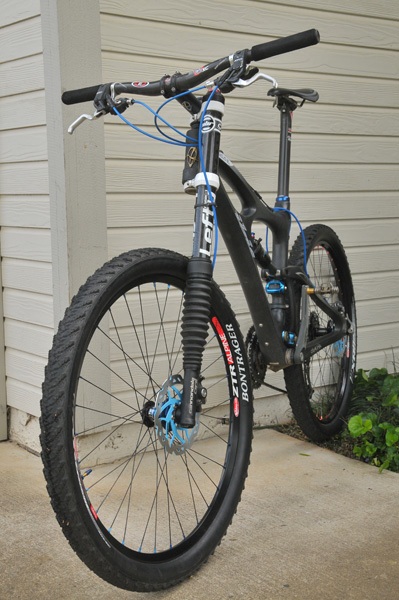 Frame:

Ibis Mojo SL - Medium w/Fox RP23
"Fork": Cannondale Lefty Carbon 140 PBR
Steer tube: Project 321 Lefty adapter
Wheels: Stan's NoTubes Olympic rims on American Classic rear hub and Project 321 front hub.
Rotors: Scrub Components - 160mm Ft, 160mm Rr
Tires: Changes with conditions, WTB, Kenda , Specialized, Bontrager
Crank: Shimano XTR M970 - 175mm
Pedals: Crank Bros 4 Ti Egg beaters
Cassette: Shimano XTR 12-34
Derailleurs: Shimano XTR M971
Brakes: Shimano XTR hydraulic disc M975
Brake line: Jagwire HiFlow hose
Der Cable: Jagwire Ripcord
Stem: Ibis 3D forged 110mm
Handlebars: Easton MonkeyLite XC carbon
Seatpost: Easton EC90 carbon
Saddle: Selle San Marcos Caymano - carbon/Ti
Grips: Bontrager XXX foam

Additional Info:
Current weight 21.8 lbs
5.5" travel front, 5.5" travel rear

The Mojo is an awesome bike. It it really "flick-able" and I love it for popping of of every little bump. It is extremely cushy... yet I consider it an "All mountain cross country racer" It does both extremely well. I suppose if I were to going to seriously set it up for race the only thing I might change would be to go back to my Fox 130 or 140mm fork with the Terralogic inertia dampening valve for a better pedal platform. The Lefty has a lock out, but during racing I'd rather not fiddle with it.

The Lefty that is on there now is simply the plushest and laterally stiffest "fork" (actually a strut) I've ever ridden. It tracks superbly and it's point and shoot over the nasties.

The "DW LINK" on the rear suspension works awesome, plush yet minimal bob when you stand up, no wonder so many frame manufacturers are using it now. You turn on the "Pro-Pedal" on the shock and the bob really goes away... but I almost always run mine open for better bump roll over.

This bike is basically a full Shimano XTR rig and the new XTR stuff works great. The shifting is smooth and the brakes are very good at my weight (145#). The current Lefty is more more "all mountain" oriented, but has a push button lock out, so still OK for XC racing.

General opinions and recommendations:

Here is a question I get ALL THE TIME: I want to do some upgrades on my bike and cannot afford a new bike, what should I do? The first few things I would recommend are:
Go with a 1 x set up. Simpler, lighter weight and works for almost everyone.

Go tubeless! You can run lower air pressures (you roll OVER the bumps instead of bouncing), you won't get flats (OK I've had one flat in 2 years) and if you do it right you will lose some rotating weight.

Go tubeless "correctly". What I mean is buy or build a set of wheels set up for going tubeless instead of using a conversion kit. Conversion kits typically use a thick rubber rim strip, that adds weight. I highly recommend the Stan's NoTubes rims or full wheel sets. Even their set of "house brand" Alpine wheels for only $435 weighs around 1350 grams. Any other wheel set and you'd have to spend $700, $800 or 900 to get that.
I admit... I was a real hold out on the tubeless thing... I was then kinda "forced" into tubeless when I bought a used single speed. I could not believe how well it handled over the bumps! I was used to running 35-38 lbs of air pressure, now I am running only 22-24psi! Amazing!
What about rolling resistance? With high pressures the very small gain you might see in reduced rolling resistance (and only on flat, smooth hard pack) is negated by the bouncing up and back over anything else. The many benefits of tubeless outweigh tube tires by far IMO: Better handling, better bump roll-over - this is where you really make up a lot, and better traction. I actually run my tires as low as possible, until I start to feel excess side wall flex, or I'm in danger of hitting my rim. Currently I run 22-24psi.
To be added onto as I have time....
A few more pic's: