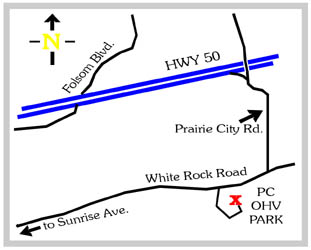 Location: Prairie City Off Highway Vehicle (OHV) Park

Address:
13300 White Rock Road
Rancho Cordova, CA 95742









NOTE: The gates open at 4:30 and CLOSES at 6:30 pm sharp - please don't arrive late. There is NO fee to enter the park for our races!


Click HERE for a cool Google map of the area. Go HERE for more information about the Prairie City State Parks facility.


Directions: 18 miles east of Sacramento exit HWY 50 on Prairie City Road and go south for approx. 2 miles. Turn right (west) on White Rock Road. Go 1 mile to the main gate entrance (on the south side of the road). Enter the Prairie City OHV Park, stay on the main road and go 1 more mile to the kiosk. Turn left immedietly after the kiosk. Continue to the parking area. You do not need to stop and pay at the kiosk, but please observe the SPEED LIMITS and Stop Signs!!!


Note: This park is for Off Highway Vehicles six days a week. They are closed on Wednesdays allowing us to use the facility. It is not open to bicycles on any time other than during our races on Wednesdays.


PLEASE NOTE THAT THE RANGERS HAVE ISSUED TICKETS FOR SPEEDING AND BLOWING THROUGH STOP SIGNS - YOU HAVE BEEN WARNED!!!