Please read the information about the laps and finishing procedure to be assured of getting scored.


More information about number plates and timing chips: (how you get scored)


BE SURE TO KEEP YOUR NUMBER PLATE FOR THE WHOLE SEASON. If you lose your original laminated number plate with chip you must purchase a new one for $5. If you do not have a Prairie City Race Series number plate with a timing chip you will not be scored!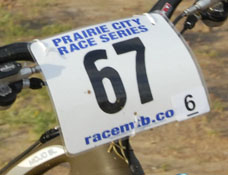 Your number plate must be mounted on the front of your bike IN FRONT of all wires, cables etc. NOTHING can be in front of your number plate or the chip may not read properly.

This is a good example of how to mount your number plate :-)




NONE of these are acceptable, Please attach your plate properly!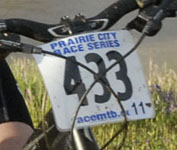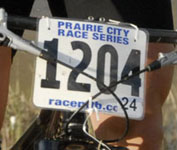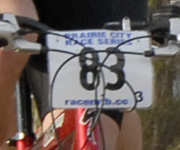 ---
Scoring information - please read it carefully


You have until 6:00 pm the Friday following a race to notify us of a scoring error - after that it is written in stone - period.**


We need your help in scoring. You MUST be responsible for the following if you want to be scored correctly!


Be sure you are registered in the proper class - see the class category number list at registration and double check this when you check in.


Your number plate must be correctly attached to the front of the bike (see above).


Please KEEP your number plate and chip. It will be your number plate for the entire season! If you change classes or race in more than one class you will need to purchase a new number plate and timing chip ($5).


After you cross the finish line STAY IN ORDER until your number is recorded. PLEASE ride slowly past the scoring crew AND video camera at the finish area to be sure your number is recorded PLEASE KEEP MOVING, DO NOT STOP in the finish area.


If you do not finish the race or do all your laps please sign the DNF list at the finish line. If you do not you will not be recorded as not starting OR finishing.


Please do not go through the finish line lane if you are not finishing! Go around to do your next lap and please do not loiter in the finish area after your position has been recorded. Be respectful of other racers continuing on more laps and finishing.

Please contact Sara for results related questions or corrections. If you know of an error, please tell us!